What time better than midterm season to look back at my time in Rome, eh? We start in the Pantheon, which is actually unreal. Even with all the people there, like the Chinese couple I saw using it as an opportunity for a photoshoot (I am srs, this man had a huge variety of intense camera lenses and the woman had multiple scarves to do outfit changes as she posed it up), it is ~breathtaking~. Very much one of those buildings that you see in person and stop in your tracks and go, I understand what the postcards are about! Shit!
There are lots of fun facts that I learned from the audio tour on the Rick Steves in Europe app, but I have forgotten them. I do remember that this altar has changed according to the dominant religious and theological views of the time. Now, it's Jesus and a Catholic cross, but back in the earliest days it was for Jupiter, the Ancient Roman god.
I always wonder what the people who work gift shop and custodial and everyday kinda jobs at these fancy tourist spots think about. To them, are we just fools gawking at their everyday background? Do they ever stop to look up and gawk themselves?
This is Rafael's tomb! I was reading the little plaque about him and thinking about his life and work and getting all in my feelings and started to tear up… and then I heard a conversation behind me between a couple Americans that went something like –
Mom: Look, Rafael is buried here! The man the ninja turtle is named after!
Son: Oh my god. Wait. RAFAEL IS DEAD?!?
– and then I was snapped out of my feelings and had to stifle laughter. Americans deserve our reputation for being horrible guests in other countries.
OK out now! The square in front of the Pantheon is so busy all the time and it still blows my mind how so much modern life just happens in and around ancient buildings.
Our hotel walls were painted to appeal to hapless tourists like us.
I did the first half of the Rick Steves' audio tour on his app today, starting at the Campo de' Fiori. During the day it's kind of like a farmer's market vibe, but I get the impression a lot of the vendors just target tourists rather than it being a place for actual Romans to shop. One of the guys selling cabbages yelled "Konichiwa" at me which was a surprisingly racist start to my day.
Loved this show of EU solidarity!
The center of this square has a statue of a monk called Bruno, an outspoken Dominican priest who ended up getting kicked out of Italy, the Calvinists, the UK, the Lutherans in Germany, before finally getting burned right here by the Inquisition. Chilling, right?
The next stop on the tour was Palazzo Farnese.
Another tourist hot spot now, the Piazza Navona, home to the Four Rivers Fountain. Bernini's fountain has four river gods on each corner symbolizing four rivers and continents – Danube for Europe, holding the coat of arms of the pope who commissioned this; Ganges for Asia, sitting on a palm tree; the Nile for Africa, with a cloth over his head because the Nile's headwaters were still unknown then; and the Rio de la Plata of Uruguay for the Americas, sitting on coins to symbolize the wealth of the New World.
The Church of Saint Agnes lines one side of the Piazza and on the far side a fountain with more river gods and Neptune in the middle. It was so so hot and sunny on this day and no shade in the middle of the piazza so I remember being grumpy, trying to convince myself to stay and appreciate the ~art and architecture, but inevitably eager to get out of the sun as soon as I could anyway.
We had lunch at a small restaurant by our hotel. On this trip I really tried to speak Italian when ordering food and I was obviously super bad, but most people seemed to appreciate the effort and were absurdly encouraging of my truly awful pronunciation. It made me sad because it probably means most Americans who visit don't make an effort to learn about the place we're guests in and just spout English expecting them to accommodate us.
Our next destination was the Musei Capitolini, but we randomly stumbled across this beautiful courtyard. And when I say randomly stumbled I literally mean it, because we were just walking down a street, happened to turn to the side where an open door led to this. What the hell! How random and lovely!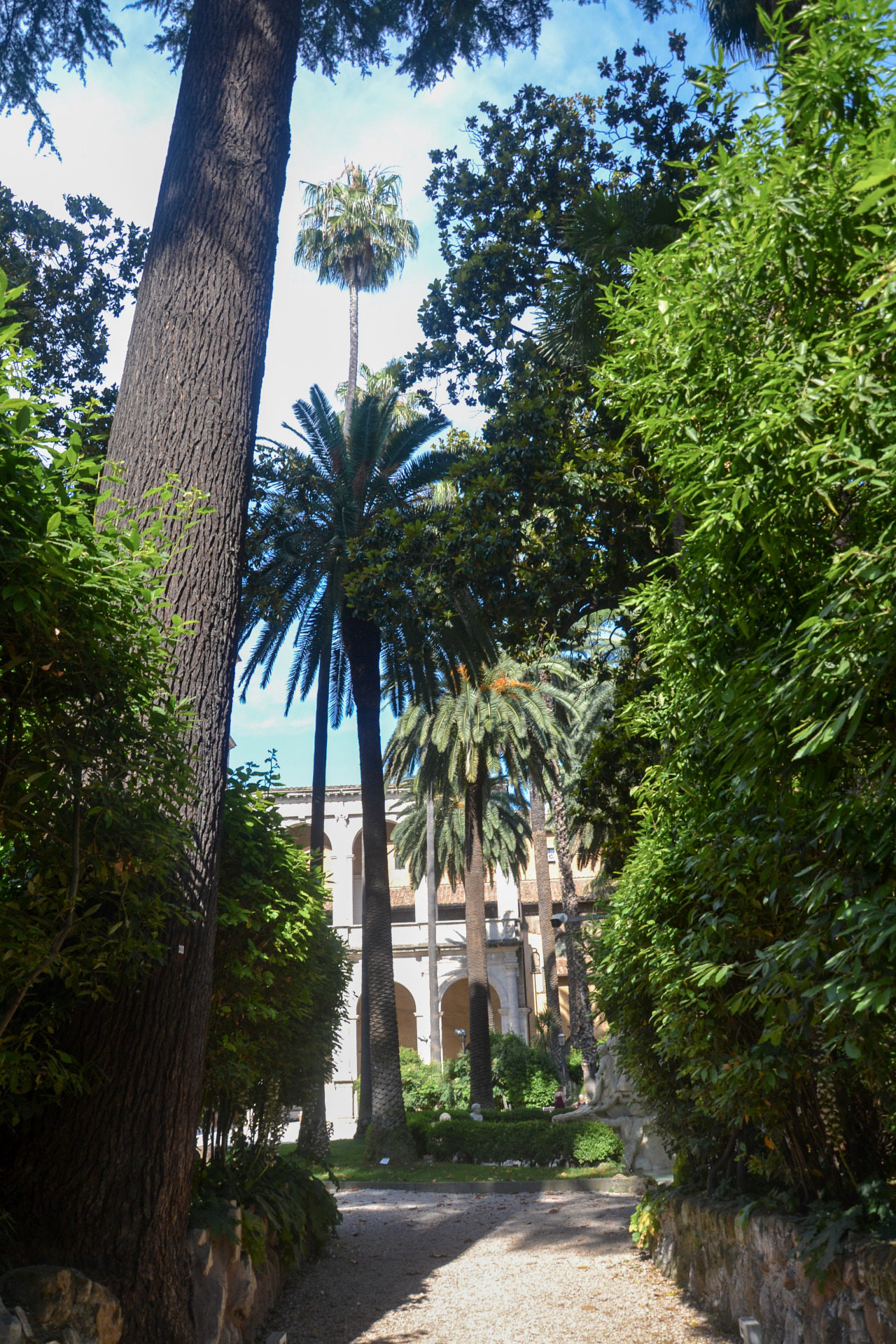 Here we are at the Capitoline Museums, on top of the Capitoline Hill and behind that huge monument to Victor Emmanuel. The statue in the courtyard is a copy of an original one sitting inside the museum of Emperor Marcus Aurelius and some other prominent art and archeological things they have include the Capitoline Wolf, Bernini's Medusa, and enough beautiful ceilings to make a gal named Max cry. That's me, I'm the one pushed to tears by pretty colors.
Touristing is really tiring when it's hot and I walked at least 15,000 steps at this point so I was real tired. I realized just how miserable it is to push yourself to do stuff just because you think you "should", because then you're left grumpy and your feet hurt and you can't even appreciate stuff you know you would if you were just a little more rested.
A very famous early sculpture of a wolf had Romulus and Remus added later to fit with the mythology of Rome's creation.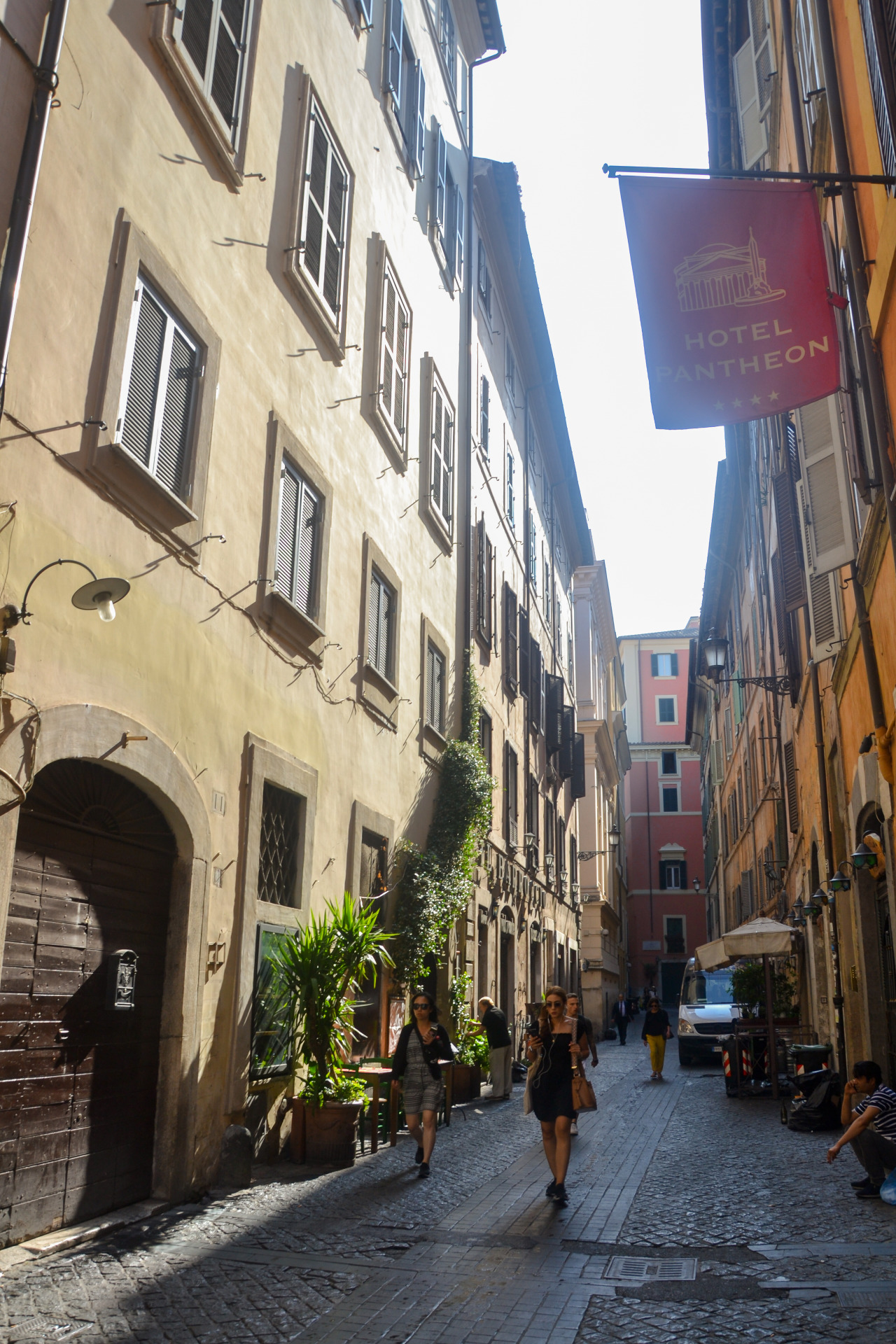 OK thank u for puttin' your eyeballs on my photos! I hope it was worthwhile for you, and now I will get back to my political theory homework.