1 – i got a vacation!
My first quarter at UCLA ended in December, so that was my first finals week and all that here. I'm really happy with it overall! So, a couple weeks into the month, I headed back up north to do not much for winter break. I watched The Mandalorian, cuddled a lot with my boyfriend, saw friends and my brother, and wondered if I'd ever use the yoga mat I packed for winter break. It was nice to get a lil rest from everything, but we are already in January 10 and boy oh boy has winter quarter hit me like a truck.
2 – things i liked
The Anthropocene Reviewed: John Green, of The Fault in Our Stars and Crash Course fame, hosts this podcast where he reviews various aspects of the human-centered world on a five-star scale. I discovered this on the 99% Invisible podcast. When I was in middle school I loved Green's books and my friends and I even went to see the Vlogbrothers live. Then he got even more popular and I think I thought he was too self-aggrandizing and pretentious, especially his Tumblr presence, and now I haven't thought about him in a couple years. Until now! I was so surprised when he came on the show, and pleasantly so when his podcast turned out to be funny and insightful and touching. They feel the same way as his books felt for me years ago, only a little more smart, and a little less teen angst. The episode on the potatoes of Lenin made me cry, and the episode on penalty kicks in football/soccer made me care about sports more than I ever have in my life. I'm happy to have come back to John Green in this way.
Baby Yoda: We watched The Mandalorian, not all of it, and the best thing ever is Baby Yoda. The rest of it, eh. It was good, but I don't care for fighting. Love Baby Yoda though.
Mario Party on Nintendo Switch: Not much to say, other than I play as Monty Mole and am not very good, but still have a grand old time.
3 – things i did not like
Someone stole my Instagram post: I posted a photo of UCLA and then someone else posted it! This was weird and I felt weird at how annoyed I felt. I thought I should have been more chill – it was an Instagram photo, some pixels and that's all. But I was pretty upset about it. She ended up crediting me in her caption and said she thought it wasn't my photo in the first place, so whatever, sort of believable mistake. Just a weird occurrence in my month, lol.
Vacation with some people is not vacation: Taking breaks is important, and I was really glad to go home and see my boyfriend and friends and moof around a lot. Sometimes 'home' doesn't feel like home though, because people there impede your sense of self and safety. A big realization for me!
4 – other things i liked that you can click and also like
Virtue and Vanity at Reformation by Jia Tolentino for The New Yorker
The Company That Branded Your Millennial Life Is Pivoting To Burnout by Anne Helen Peterson for Buzzfeed
The Secret to Enjoying a Long Winter by Jason Kottke
Toward an Applicable Theory of Just Not by Rachel for Autostraddle
https://www.instagram.com/p/B6GpjMVlL1O/
I didn't!

I had no idea what I wanted to do, and felt "stuck" for a long time.

Eventually – when I was working in restaurants, unable to afford going back to school, and feeling like I was so far away from doing anything I enjoyed – I gave up on having a 5 year plan or destination/dream job, and just started to follow my curiosity and values to create meaning in my life outside of work. That led me back to the path of community work and activism that led me to Congress. The funny thing is that I had been invested in community work since I was young, I just didn't quite realize it.

That's all to say if you feel "stuck" one of the most helpful (and difficult) things to do is to let go of expectations about external achievements (title, job, money) and start listening to what you are immediately curious about, invested in, or good at and follow that in ways outside of work. That can help you re-orient yourself.

Alexandria Ocasio-Cortez on Instagram Stories, answering the Q 'how did you know you wanted to do what you do?'
5 – camera roll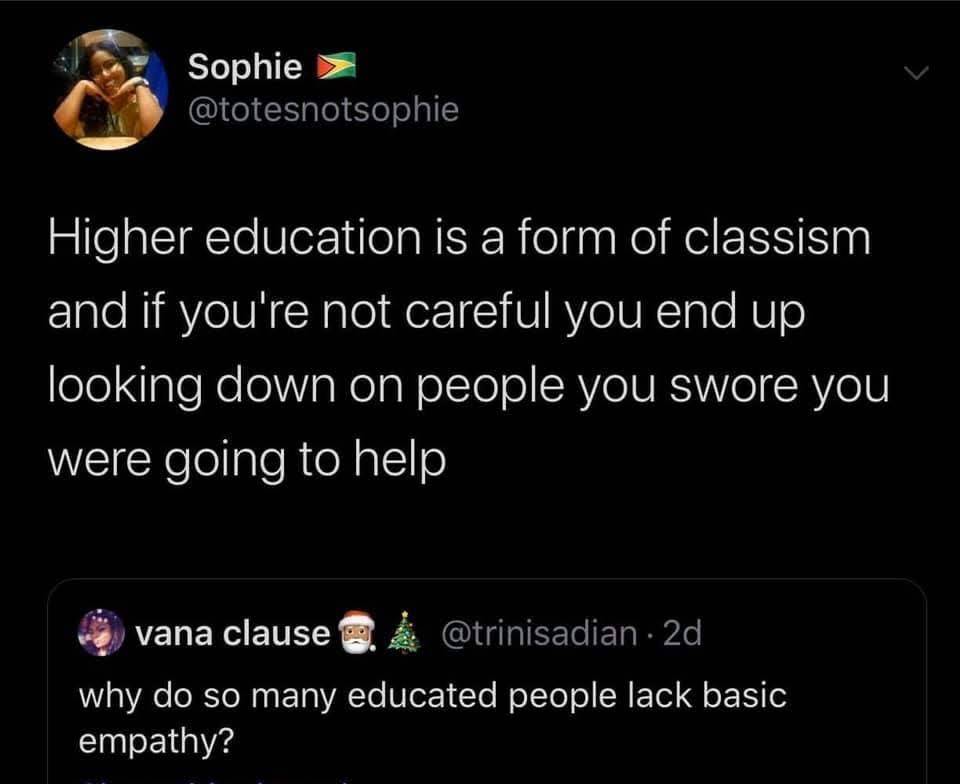 In closing, I leave you with a reminder of what my face looks like from a photo my brother took of me a few months ago and a Tweet I believe in strongly.